5 Asset Protection Strategies to Build a Moat Around Your Wealth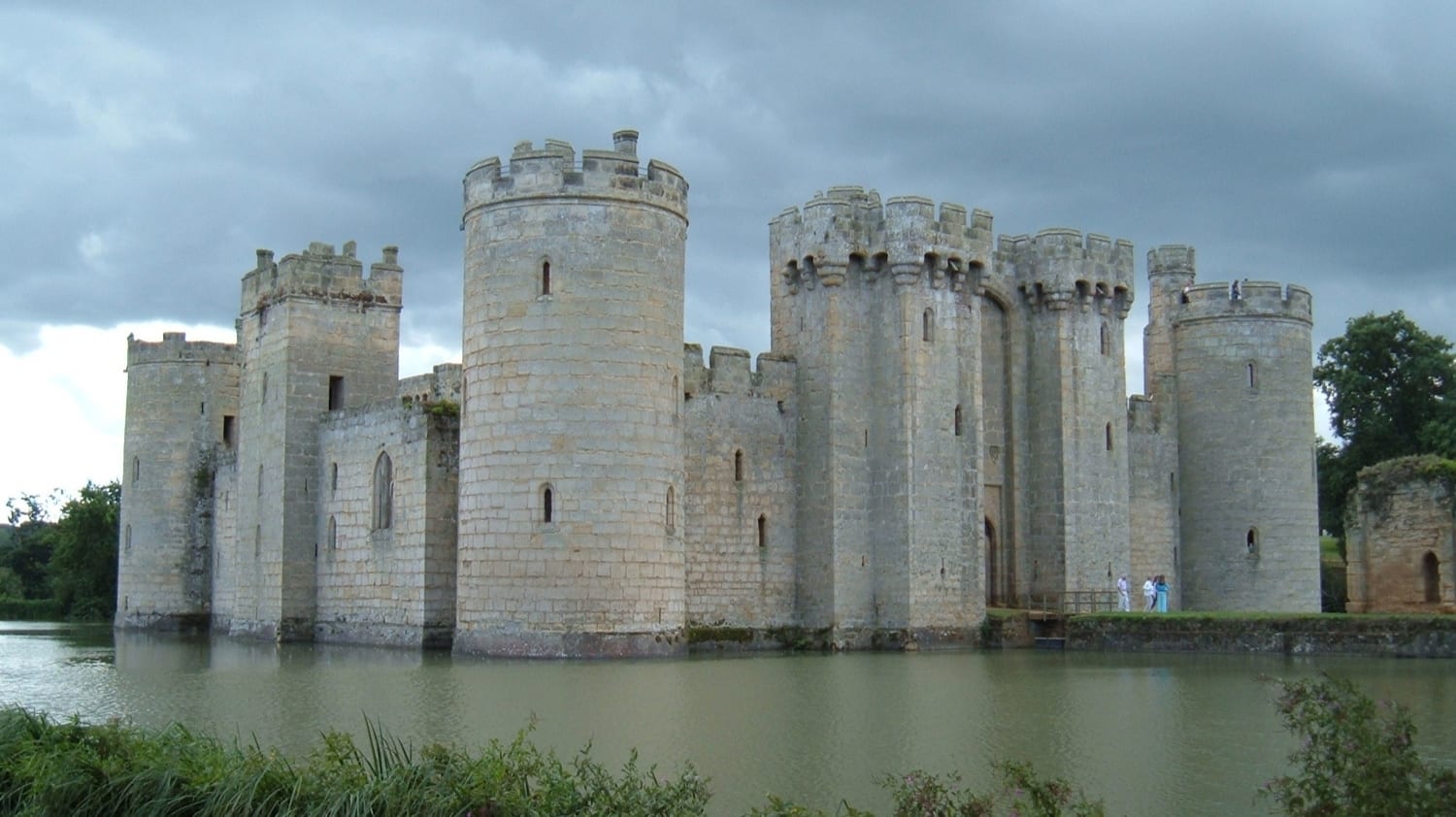 Top of mind to many entrepreneurs we work with is preserving their lifestyle and protecting their assets. I cover this in my book, Liquidity & You: A Guide for Tech & Business Entrepreneurs Approaching an Exit, and find the topic comes up frequently when entrepreneurs are contemplating or going through a liquidity event, partly because of the representations and warranties they must make in conjunction with the transaction. And by way of press, word of mouth, etc., they can be singled out by so not so well-intentioned folks.
Warren Buffet discusses the importance of a "moat" when investing, and my friends at AES Nation discuss in depth how to build a moat to protect you from that which could jeopardize your lifestyle.
Key Takeaways:
Done right, asset protection builds a wall around your wealth that creditors, litigators, ex-spouses and others can't breach.
Strategies include basic umbrella policies, as well as advanced Super Rich solutions that take asset protection to the next level for at-risk entrepreneurs.
Avoid the key asset protection mistakes that trip up many business owners—mistakes that could leave your wealth exposed to those who would take it unjustly.
Chances are, you know someone who has been sued. Maybe that someone is you. 
The fact is, your enviable position as a successful business owner comes with a major downside: You're a potential magnet for lawsuits—which may very well be frivolous and unfounded—and other attacks that can wreak havoc on your financial health.
That means you've got to take steps to protect the assets you've worked so hard to build. Otherwise, you may jeopardize the financial security of yourself, your company and your family.
Why You Need Asset Protection
The logic of asset protection planning is clear: You build a moat around your assets that is as difficult as legally possible for litigators, creditors and others to cross. Instead of trying to fight it out with you in court for months or years and risk losing, the litigant sees that the only reasonable option from a legal standpoint is to settle for pennies on the dollar—or, ideally, to leave empty-handed.
TAKE NOTE: Asset protection is not meant to "hide" money in any way. To the contrary, you want anyone who might come after your assets to clearly see what you have done, because it shows them the difficult legal path they'd have to take to get to your wealth—motivating them to settle, negotiate or throw up their hands and walk away.
You probably recognize the threats to your wealth from others. More than 85 percent of successful business owners say they are concerned about becoming the object of unjust lawsuits or being victimized in divorce proceedings (see Exhibit 1).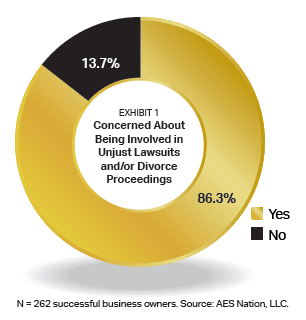 Here's the bad news: Only about a quarter (27.5 percent) of successful business owners have a formal asset protection plan in place (see Exhibit 2). The percentage is even lower among those business owners who say they are concerned about protecting assets. Given the risks you and your peers face in our litigious culture, these numbers are likely far too low.
Exhibit 2
Business Owners Who Have a Formal Asset Protection Plan

Concerned

23.5%

23.5%

Not Concerned

52.8%

52.8%

Weighted Average:

27.5%

27.5%
N=262 successful business owners. Source: AES Nation, LLC.
IMPORTANT: Half of the successful business owners who are not concerned do have formal asset protection plans in place. It makes sense that having these plans reduces business owners' trepidation about being unjustly sued, and gives them confidence they are well-protected.
Access the Top 10 Wealth Planning Strategies for Successful Entrepreneurs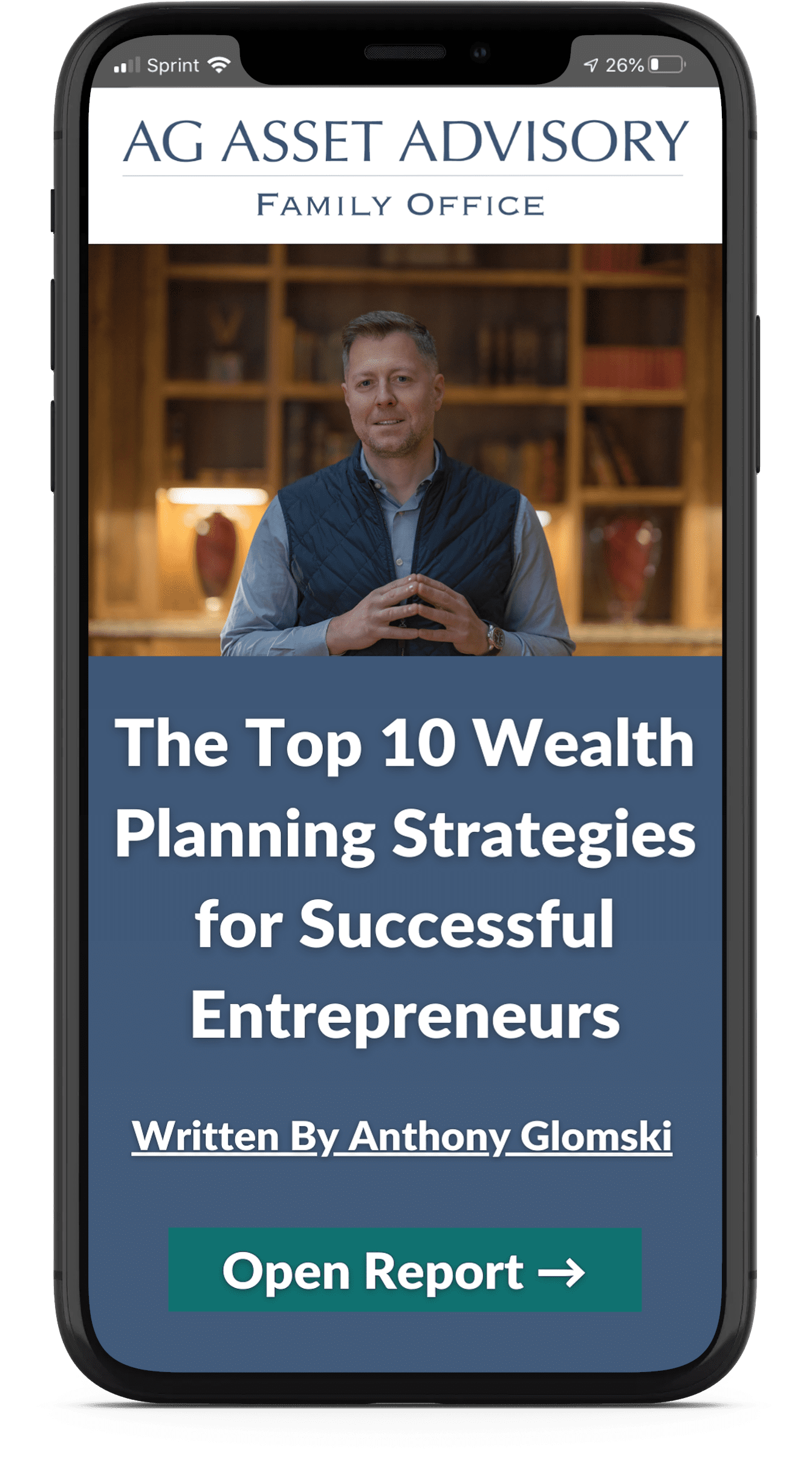 Access the Top 10 Wealth Planning Strategies for Successful Entrepreneurs
Five Key Action Steps to Protect Assets
If you're one of the many business owners who lack an asset protection plan—or you're curious whether your existing plan is up to snuff—consider these key steps.
1. Get protected before a claim against you is made. You can do a lot to protect your wealth before a liability arises—but thanks to a concept known as "fraudulent conveyance," very little after. As with insurance, the time to have asset protection in place is well before you need it—or even think you might need it.
2. Cover the basics. Evaluate your liabilities and other related insurances and maximize them as best you can. The fastest, easiest—and cheapest—move you can make is to take out a large umbrella policy to safeguard assets. Another simple but powerful strategy is to place your assets in someone else's name, such as your spouse's. If you're sued, those spouse-controlled assets are often untouchable.
WARNING: Be sure you have a great deal of trust in your spouse and your marriage before transferring ownership of assets to him or her. In a divorce, your spouse could potentially walk away with those assets—or you could be forced to fight for them at least as hard as you'd fight a creditor who went after them.
3. Consider advanced asset protection strategies. The Super Rich and ultra-wealthy business owners often take sophisticated steps to protect their wealth once they've covered the basics. Options to consider include:
Equity stripping. Some ultra-wealthy business owners protect their assets from unjust and frivolous lawsuits by using bank loans to strip out the equity. Conceptually, it's simple. You take out a loan from a bank and secure the loan with the assets (such as equipment or real estate). This way, the bank has preference over judgments obtained by creditors. For creditors to get to the encumbered assets, they would first have to pay off the bank loan.
Captive insurance companies. A captive insurance company (aka "captive") is a closely held insurance company set up to insure the risks of the parent company. The owner of the parent company wholly owns the captive insurance company. Therefore, you—the business owner—control the operations of the captive insurance company (including underwriting, claims decisions and the investment policy).
Onshore and offshore trusts. Currently, a number of states allow for domestic asset protection trusts, while countries such as the Bahamas, Belize, The Cook Islands and Nevis (among others) are good locations for offshore trusts. Assets placed in these are generally out of reach of creditors. That said, the rules governing these trusts vary greatly depending on the jurisdiction you select. Understanding the specifics of the jurisdiction is therefore critical.
MORE STRATEGIES: Check out the sidebar below for a sample checklist of other asset protection action steps to consider taking.
4. Be sure your attorney or other professionals are qualified to help you protect your assets. Far too many financial professionals aren't in a position to provide guidance on and implementation of many asset protection solutions. Take equity stripping, for example. Consider that fewer than 10 percent of financial advisors or the specialists they work with are familiar with equity stripping, and that less than 1 percent have ever provided it to a client (see Exhibit 3).
Exhibit 3
Financial Advisors and Equity Stripping
Knowledge About

8.8%

8.8%

Have Provided to a Client

0.1%

0.1%
Source: Family Office Assocation, 2018. N = 199 single-family office senior executives.
5. Avoid big mistakes that will trip up your asset protection efforts. Many of these more advanced asset protection strategies are complex and require a deep familiarity with and understanding of how they work in order to set up and execute them effectively. If poorly structured, asset protection strategies will have no "teeth" when they're needed most—and business owners' assets won't be nearly as safe as they assume.
EXAMPLE: Most advisors don't appreciate the need to protect business owners on both the professional side and the personal side. Take real estate developers, for example, who commonly place each of their development projects in separate limited liability companies (LLCs). That way, if one project incurs a lawsuit, the others are protected. 
The problem: Those LLCs are many times set up so the developers own them directly. If they get hit with a personal lawsuit—they're involved in a drunk driving accident or their children smash a car into a school bus—all those assets in the LLCs could be up for grabs in the lawsuit.
GET PROTECTED: Six more asset protection strategies for safeguarding wealth
Ascertain appropriate utilization of risk transfer through property-casualty insurance (homeowner's, auto, rental, personal excess liability [umbrella], health, disability insurance, life, long-term care, directors' liability and professional liability insurances).
Use state law exemptions effectively (for example, the homestead exemption, cash value of life insurance policy, retirement plans and annuities).
Consider various forms of ownership that either put an asset beyond the reach of a creditor or make these assets less desirable for creditors.
Examine restructuring your current business.
Discuss gifting assets when there are no current creditor issues to lessen the likelihood of raising fraudulent transfer issues.

Structure any expected gifts and/or inheritances to protect them from claims of creditors.
"If there's a lot of risk attached to what you are doing as a business owner, then you should start seriously looking at these advanced asset protection planning strategies."
Next Steps:
To discuss asset protection strategies that might be right for your situation, you may be well served to conduct a stress test. Reach out to us and check out AG Asset Advisory to explore the topic further and to get connected with the right professionals.
Anthony Glomski is the founder of AG Asset Advisory, an internationally recognized SEC-registered Family Office. His team works extensively with entrepreneurs so they don't miss out on any potential opportunities and they get the results they want. This collaborative process addresses an array of family, financial, and lifestyle concerns along with coordination and oversight of various professionals to keep everyone focused tightly on their goals.
Our Mission:
We design bespoke wealth planning strategies and customized solutions for highly successful entrepreneurs that avoid missing potential opportunities and achieve the outcomes you want.