Virtual Family Offices & Multifamily Offices: The Affordable Approach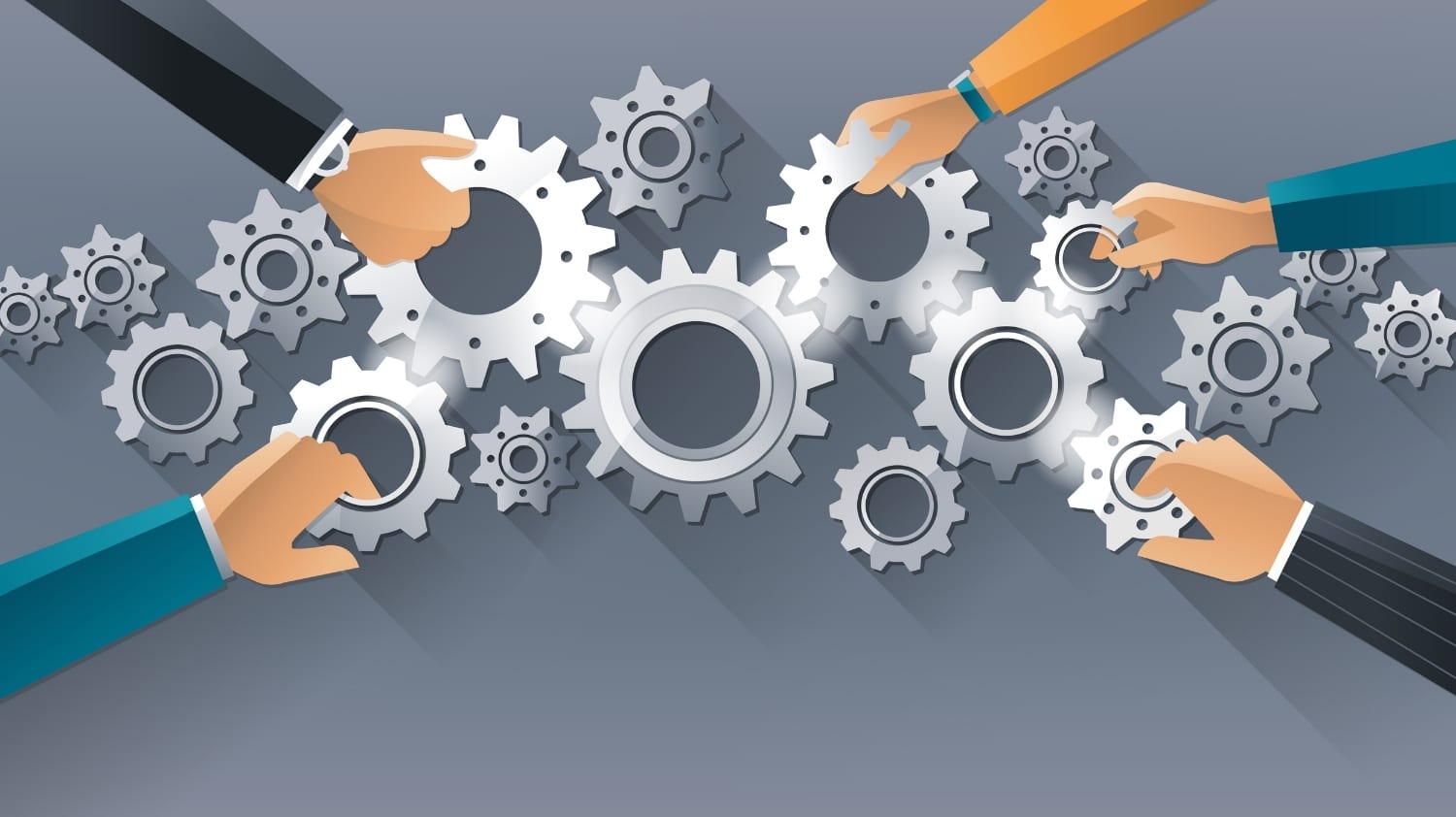 Key Takeaways:
Single Family Offices (SFOs) are not feasible for many successful entrepreneurs and families who haven't yet reached the level of the Super Rich.
Virtual Family Offices are one way to get access to high-caliber family office solutions in a more cost-effective way.
Multifamily Offices are rapidly becoming a preferred way to benefit from family office services and solutions.
I am privileged to spend my day serving highly successful business owners and their families. No two entrepreneurs have the same vision or made their vast wealth the same way, but they have two things in common:
They want to make sure everything in their life is working the way they want and continues to do so.
1. They want to be sure they're not missing out on any opportunities.
2. A high functioning family office—whether single-family, multifamily, or virtual family office—accomplishes both of these objectives for an entrepreneur and their family.
In my book, Liquidity and You, I spend a lot of time talking about the importance of having a collaborative wealth management process to coordinate the many complex aspects of your financial life. While this is still important and hugely beneficial to many entrepreneurs, our firm is increasingly being tasked with building family offices around entrepreneurs and their families. Thanks to changes in technology and legislation, elite family office services, which used to be reserved for billionaires, are now accessible to more and more entrepreneurs with net worths in the high 7-figures and low 8-figures.
"As the world and people's lives become increasingly complex, highly affluent families are flocking to single family offices like never before."
Should you join them? Can you join them?
As the name suggests, a single-family office (SFO) is a professional firm that's dedicated to managing the financial and personal affairs of just one wealthy family, not a whole roster of clients. Think of an SFO as complete concierge service for all things financial in your life.
Single-family offices are used by some of the world's "smartest money" to gain important financial advantages. Until recently, you had to have upwards of $500 million in net-worth to use them.
One reason that SFOs have been so costly is that they deliver diverse types of expertise and services to wealthy families that no other type of organization can deliver—and they do so in a coordinated and holistic manner. By identifying and capitalizing on synergies between various services and products, an SFO may be able to help the wealthy family achieve substantially better financial results in a broad range of areas as well as enjoy a better lifestyle. (See Exhibit 1)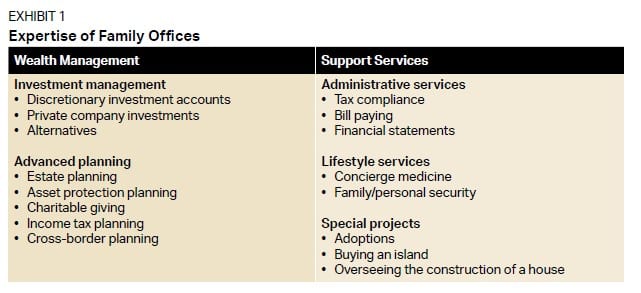 Example: Investment management services can be made more cost-effective by adroitly combining the investments with certain advanced planning strategies (such as private placement life insurance, charitable trusts, and captive insurance companies).
Sounds tempting, doesn't it?
There's just one catch: money. 
The expertise needed to run a single-family office well and to manage an ultra-wealthy family's financial assets can be an expensive proposition. Until recently, SFOs required a family to possess around $100 million of investible assets in order to be managed effectively.
Money isn't the only factor people should consider when evaluating whether an SFO makes sense for them—and that $100 million figure is hardly set in stone, as families with less wealth can and do benefit from going the SFO route. But in many cases, money is the key factor that causes families to give SFOs a thumbs-up or a thumbs-down.
The good news: Successful families with net worth's far below $100 million are increasingly able to access SFO-like services and experiences. If you have a net worth of $10 million or more, there are now two very attractive options to consider:
1. Virtual Family Office (Virtual SFO)
2. Multifamily Office (MFO)
Let's take them one at a time.
Virtual Family Office
Many of the high-end services long associated with a family office are now being offered virtually by networks of experts who are linked together, usually via technology. These experts are extremely interested in working with successful business owners, and technology enables them to offer their services cost-effectively. Therefore, business owners can increasingly build their own personalized near-virtual versions of the traditional SFO.
"Near-virtual" SFOs can vary greatly in complexity. For example, on the more complex end of the spectrum, our colleagues created a near-virtual SFO for a perpetual tourist. Their globe-trotting client wanted an SFO after having decided that the private banks he relied on were not only gouging him but failing to meet his expectations. His major concern was being able to access all of his advisor resources and elite professional talent anytime, anywhere. Based on his requirements, the answer for him was a near-virtual single-family office.
Essentially, the structure they created for their client consisted of a central team of three professionals supported by six boutique accounting firms geographically dispersed. Each professional serves as the resource solution of their client's near-virtual single-family office when their client is in their geographic region. Each accounting firm functions, in part, as the coordinator of a litany of external experts. To ensure privacy, everything runs through the coordinator's personal team and many communications are encrypted. Finally, a number of customized apps were created to speed up the communications.
Access the Top 10 Wealth Planning Strategies for Successful Entrepreneurs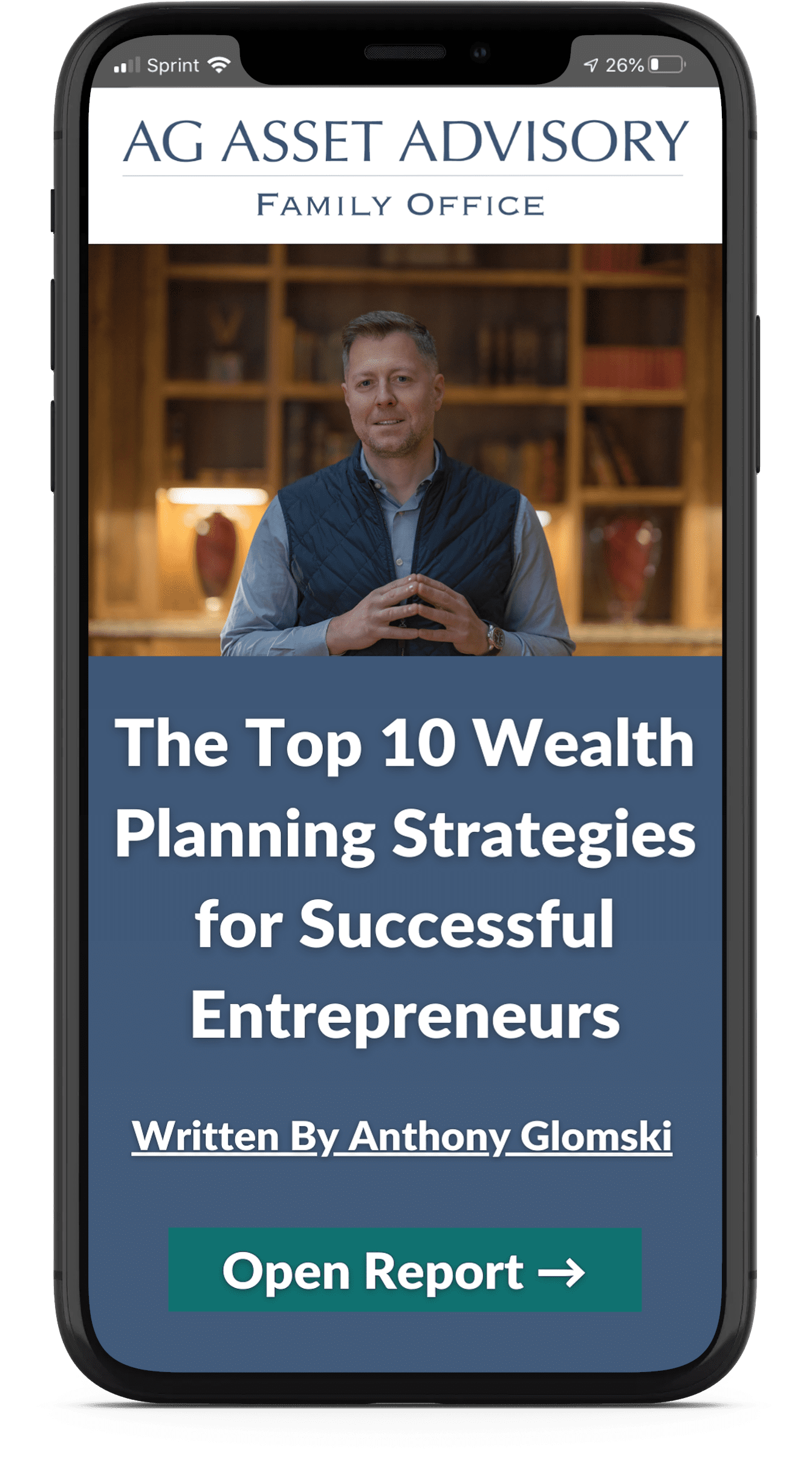 Access the Top 10 Wealth Planning Strategies for Successful Entrepreneurs
Multifamily Office
Thanks to multifamily offices (MFOs), successful entrepreneurs and their families can now receive the same menu of high-caliber services and products that the Super Rich enjoy via SFOs. Conceptually, the MFO emphasizes building deep and lasting advisor-client relationships that are centered on customized financial solutions, specialized expertise (often teams of experts) and highly responsive service and attention. An MFO provider generally serves several families—perhaps as few as three or as many as 50. Again, the amount of wealth needed to tap into a multifamily office model might fall around $10 million to $20 million or so (but this number can vary greatly).
When it comes to family offices, "They want to understand what it is, what it does, and how it can benefit their family," according to Jason Trenton, a top trust and estate attorney in the Los Angeles office of Venable LLP's Tax and Wealth Planning Practice. "There seems to be a fear of missing out on some opportunity, and rightfully so."
Regardless of which path you choose, you've got to decide upon the correct structure. Some structures are better than others. "We are seeing an increasing demand and interest from our family office clients in the use of a virtual private trust company (the 'PTC')," notes Trenton.
A few states, such as South Dakota and Nevada have become favorable PTC jurisdictions. "More and more we are setting up PTC structures in these jurisdictions for clients, [especially in light of high California tax rates]," added Trenton. Below is a sample diagram of one of the typical PTC structures that we created using a South Dakota PTC.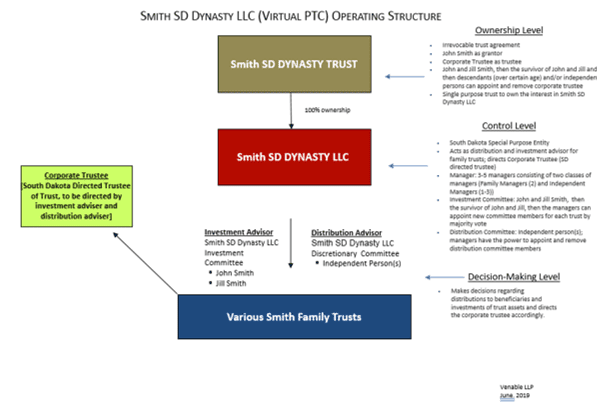 Finding the right MFO for your family
Unfortunately, identifying high-quality multifamily offices can be confusing. There is no standard for what constitutes an MFO. In fact, any firm can call itself a multifamily office—so it's important to look beyond the title or label a provider uses. 
For example, all manner of professionals—including wealth managers, accountants and private client lawyers—can function as multifamily offices. When assessing a particular professional's skills and abilities, look for three important attributes: 
1. An ability to develop a deep understanding of what is important to you, the limitations you might have, and your timeframe.
2. The ability to deliver a high-quality client experience, including:
a. The ability to deliver high-value financial services and products that will enable
you to address your needs and wants, as well as to deliver access to other
professionals outside of the firm who deliver services and products at the same
level of excellence.
b. The ability to provide an exceptional working experience.
3. Ongoing evaluations and follow-up to make certain everything is on track (or
that modifications are made to get things on track). This includes overseeing the
solutions provided by any outside professionals brought in by the multifamily office.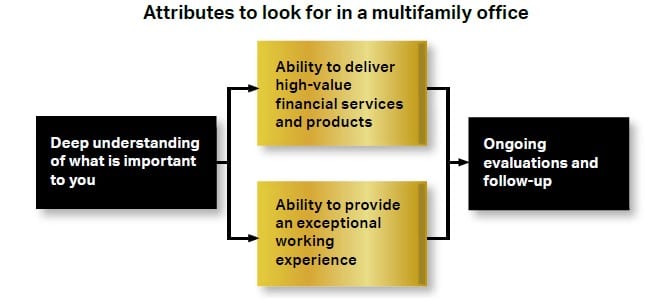 Some other key questions to consider when assessing MFO providers:
What is the MFO's reputation? The perception that other professionals and clients have of the multifamily office can indicate its ability to deliver on its promises. If the MFO is a recognized and respected expert, it's more likely that it will provide state-of-the-art wealth management solutions and the highest-quality support services.
What are the MFO's capabilities? You need to know the specific services and products the MFO offers. You also want to determine whether those offerings match up well with what you are looking for based on your goals. Also important: Advisors at MFOs should be able to explain what they can do for you in terms of the results they achieve, not the technical aspects of their solutions.
How are the various services and products paid for? There are different ways multifamily offices charge their clients, from all-in asset management fees to à la carte pricing to a combination of the two approaches. There is no single "best" approach. It's essential that you clearly understand the pricing model of the multifamily office and are comfortable with it.
What expertise is in-house and what expertise does the office coordinate for you with external experts? No multifamily office possesses all the expertise it needs under its own roof. You need to know which services are being farmed out and to whom (and the quality level of those providers). Keep in mind that certain services and products are regularly outsourced to third-party providers. One example: formal legal work. While the experts in the multifamily office will likely design the estate plan, outside legal counsel is needed to create the documents that codify the plan.
How does the MFO work with outside professionals (including the compensation arrangements between the firms)? Since multifamily offices will use outside professionals as part of their team of expert providers, you need to understand how all those professionals will be working together on your behalf so that their various solutions don't conflict with each other. In particular, you want to know the financial arrangements (such as revenue sharing) between all the professionals and how, exactly, they earn their money.
Six major multifamily office trends
Here are some of the most important developments we're currently seeing among multifamily offices:
1. Successful people will increasingly turn to multifamily offices. The power of multifamily offices is such that more and more of the wealthy will recognize them as a superior answer to the often disjointed and uncoordinated array of professionals they now rely on. More and more of the wealthy will discard these other arrangements in favor of working with multifamily offices.
2. Family office solutions will be increasingly democratized. Driven by demand and technology, the expertise and solutions benefiting the Super Rich will become increasingly common. More and more people across the range of wealth will be able to capitalize on these solutions.
3. The fees clients pay for multifamily offices will slowly decline. Due to technology and regulatory changes, the cost to families for cutting-edge expertise will continue to drop. This translates into greater and greater client value.
4. There will be a proliferation of multifamily offices. The growth in the number of multifamily offices, as well as in the amount of assets managed by MFOs, will be driven by the growth of private wealth, the appeal of the family office model to the affluent, and the weaknesses in other ways of delivering wealth management and support services.
5. The quality of expertise delivered by multifamily offices will continue to rise. The expertise available through multifamily offices is only going to improve. With demand high, competition is also high. In order to be effective, multifamily offices will continue to enhance their capabilities as they strive to bring the best to the market and differentiate themselves from their competitors. That, in turn, will help clients of MFOs get access to better and better advice and solutions.
6. Family office clients are increasingly turning to virtual private trust companies (PTCs).
Your Next Steps
If you would like to see if a family office is right for you or have questions, please reach out to us at info@agassetadvisory.com. We're here to help.
Anthony Glomski is the founder of AG Asset Advisory, an internationally recognized SEC-registered Family Office. His team works extensively with entrepreneurs so they don't miss out on any potential opportunities and they get the results they want. This collaborative process addresses an array of family, financial, and lifestyle concerns along with coordination and oversight of various professionals to keep everyone focused tightly on their goals.
Our Mission:
We design bespoke wealth planning strategies and customized solutions for highly successful entrepreneurs that avoid missing potential opportunities and achieve the outcomes you want.